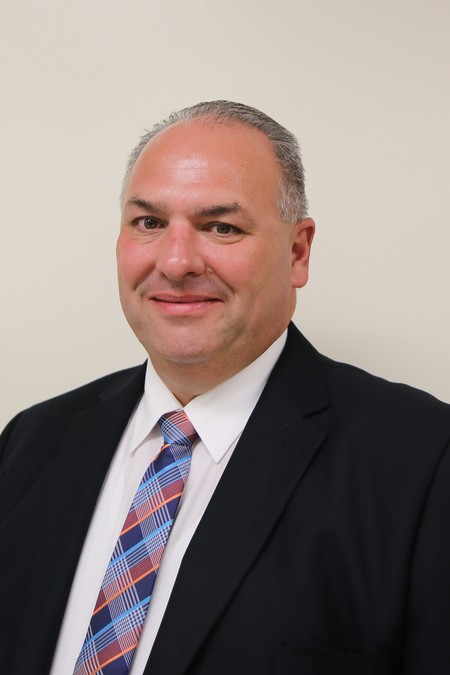 Dear Parents, Students, and Visitors:
Welcome to ESM Central High School. We have been busy implementing our Site-Based Plan and looking for ways to enhance
our learning process. It's all about the learning is our theme for the 2019 -2020 school year. We are continuing our work with Harvey Silver implementing the Thoughtful Classroom and Principal Effectiveness framework. Our staff will continue improving our learning achievement utilizing the data wise process as we self-examine and assess what we do, how we do it and make changes based upon data to improve instructional practices.
As your High School Executive Principal, I always welcome feedback and suggestions for areas of growth and improvement. (gavellino@esmschools.org) Our students made wonderful progress last year and were recognized for their accomplishments. Your support and encouragement foster your child's success. Our School Improvement Plan will be finalized before the beginning of the new year. I want to update you on several items that will be of interest to you throughout the year:
Safety and Security: We continue to utilize the Visitor Security System that will clear visitors for building entry. You will have to show government-issued identification and then you will be issued a visitor security badge that must be worn at all times while you are in our building. Our camera security system has been upgraded and many additional cameras have been added.
21st Century Learning Skills: The East Syracuse Minoa School District has been very active in introducing 21st Century Learning Skills into our curriculum and we will continue that development during the 2019-20 school year. When we refer to the 21st Century Learning Skills we are referring to the 4 C's: Critical Thinking, Collaboration, Creativity, and Communication. When students graduate from East Syracuse Minoa High School we expect them to be able to think critically to solve meaningful, real-life problems, work collaboratively with a partner or group of students, develop creative ideas and solutions, and communicate their ideas or solutions to the group. Our focus this year continues to be to develop their ability to think critically to solve real-life problems.
School to College and Career Pathways: Mrs. Randi Ludwig is our Coordinator for College and Career Readiness. She leads our School to College and Career Advisory Board. Our School to College and Career Advisory Board membership consists of over 75 people that include staff, parents, students, and various business and college partners. We have been meeting and focusing on the implementation of Career Pathways and the C-DOS (
http://www.p12.nysed.gov/specialed/publications/2015-memos/documents/FM-CDOSBrochure.pdf
) skills. It is our goal that as we prepare students for college and career readiness, we continue to innovate our practices growing and developing individual interests that can segue into possible internships and/or job shadowing.
Student Attendance and Tardiness: Student attendance in class is a key factor in student success. It is important that students be in school and on time when school is in session. Our students should be in school no later than 8:45 am as class starts at 8:50 am. Students must follow the attendance procedures for leaving the building. If they arrive late, they must sign in at the Attendance Office located at the front entrance and if they leave early, they must sign out at the Attendance Office. A student who arrives at school after 10:30 am will not be allowed to participate in extracurricular or athletic activities for that day in accordance with Section III athletics policy.
Schooltool: Schooltool helps keep parents and students informed of your child's academic progress. This program is designed to provide parents with the opportunity to review grades, test scores and projects online relatively close to the administration of the assessments rather than waiting weeks for the results. I ask you to keep in mind some subjects will take longer than others to develop the grades and input them into the computer. Please be patient, as all departments will have different expectations in the scoring period based upon the length and complexity of long term assignments. We have had many positive comments about this program and I hope you find it useful in helping your children improve their academic achievement.
Report Cards: We have four marking periods at the 10-week interval. We will have a 5-week interim report for each student during the marking periods to provide you with an overall range of grades to determine how your child is performing during the marking periods. The normal report card will be available online for you every 10 weeks. You will receive a reminder phone call when they are posted and available. You may continue to check your child's progress throughout the year on our parent portal 24 hours a day.
Educationally yours,
Grenardo L. Avellino
Executive Principal