Viewing 1 - 13 of 13 stories
CHS Musical: Breaking Up is Hard to Do - May 12, 13, 15:

The high school musical for ESM Spartan Spartan Stage is "Breaking Up is Hard to Do" featuring the songs of Neil Sedaka. The show will be livestreamed on May 12 and 13 at 7 p.m. and Sat., May 15 at 2 p.m. Streaming passes will be available through Booktix at esmchs.booktix.com coming soon. Set at a Catskills resort in 1960, this is the sweetly comic story of Lois and Marge, two friends from Brooklyn in search of good times and romance over one wild Labor Day weekend. The score showcases 18 Neil Sedaka classics, including "Where the Boys Are," "Sweet Sixteen," "Calendar Girl," "Love Will Keep Us Together" and of course, the chart-topping title song. https://esmchs.booktix.com/ Cast (In Order Of Appearance) ...
SM Named a Best Community for Music Education for 8th Year:

ESM has earned the Best Communities for Music Education designation for the 8th year in a row from The NAMM Foundation for its outstanding commitment to music education. The Best Communities for Music Education designation is awarded to districts that demonstrate outstanding achievement in efforts to provide music access and education to all students. "Despite the challenges and obstacles to typical music instruction during the 2020-21 school year, our teachers and students have been able to create unique and innovative musical experiences. This award recognizes the flexibility, ingenuity and perseverance of all involved in the music education of the students at ESM," said Adam Shatraw, K-12 Performing Arts Supervisor. ESM is among only 686 school districts ...
Pine Grove Musical is April 30 & May 1:

Pine Grove's Spartan Stage Jr. will perform "Emma, A Pop Musical!" based on the Jane Austen book, but with a modern twist. The "virtual hybrid" musical will feature some footage recorded on stage and some recorded on Zoom and then edited together. Tickets will be $6 per person and there will be two online performances — April 30 at 7 p.m. and May 1 at 1 p.m. Please note that each performance has a DIFFERENT ticket link! Cast List: Emma - Madison Wood Jeff - Thomas Gallery Harriet - Madison Macomber Frankie - Ryan Sullivan Jane - Ellie Mancini Phillip - Trevor McDonald Martin - Anthony Shumway Ashley - Molly Stiadle Miss Bates - Aristyn Muldoon Mr. Weston - Alek Gawlikowski Miss Taylor - Caroline James ...
ESM Students Earn Scholastic Art Awards:

ESM students earned 19 awards at the 2021 CNY Scholastic Art Awards including 3 Gold Keys, 10 Silver Keys and 6 Honorable Mentions. Gold Key pieces will go on to the national competition. The COVID-19 pandemic resulted in fewer entries this year from throughout the 13 Central New York counties represented. Pieces were judged virtually. The CNY Scholastic Art Awards are sponsored by M&T Bank and hosted by Onondaga Community College. A virtual exhibit and awards ceremony are planned to celebrate student artists, teachers and area supporters. ESM had three students that earned Gold Key awards : Lindsey Burton in Painting; Connor Jacobs, Photography and Emma Jaquin, Drawing & Illustration. Silver Key winners include Kailee Clark, Architecture & ...
21 ESM DECA Students Qualify for NYS Competition:

ESM DECA, an association of marketing students, had an outstanding performance at the DECA Region 9 Virtual Conference. Nine students placed in the top 3 of their event to advance to the New York State DECA Virtual Career Conference. Also, 12 students advanced to the state level for their community service projects. "This has been a very difficult year with presentations being prerecorded and no interaction with the judges. I am very proud of the achievements of these students and the hard work that they put in to be successful," said DECA advisor Robert Anzalone. Students advancing that placed at regionals are: Zach Seburn, Business Services Marketing, 1st place Aryanna Finkelstein, Hospitality Services Team Decision Making, ...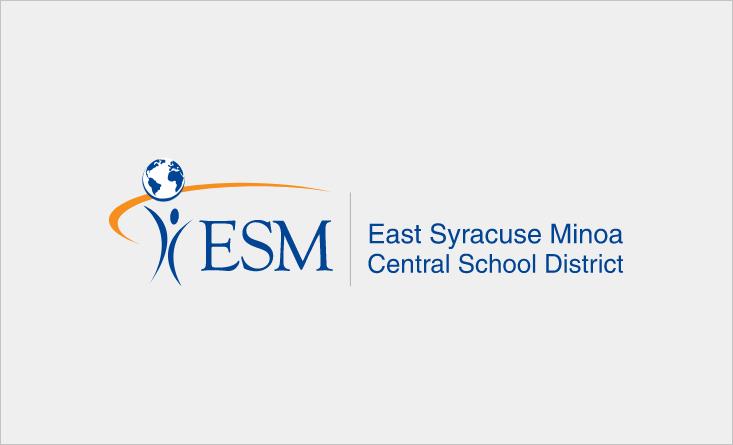 Updated Information on Coronavirus:

ESM has compiled resources for parents/guardians regarding COVID-19. Please be assured that the health and safety of students and staff is always our top priority. Visit our Parent Resources page for resource links regarding public services, helping children cope with stress, continuum of learning/learn at home tips/videos and much more. Visit the resources on Onondaga County COVID-19 Page . Also see ESM's COVID-19 Testing & Contact Tracing Protocols COVID-19 Testing for Students & Staff: Onondaga County is offering free symptomatic testing for students and school staff who have COVID-19 symptoms. More details & appointment information . NY State Covid-19 Report Card : To keep parents, students, teachers & ...
ESM Designated as a Best Community for Music Education for 7th Year:

For the seventh year in a row, ESM is proud to be designated among the Best Communities for Music Education. Designations are given to districts that demonstrate an exceptionally high commitment and consistent access to music education as part of a well-rounded education. ESM is among only 754 school districts nationwide that were recognized by the National Association of Music Merchants (NAMM) Foundation. "Through consistent and overwhelming support from the ESM administration, parents and community, we are able to continue to provide a music education that is integral to develop the skills necessary for a student to be successful professionally, socially and emotionally in life. On behalf of the entire music department, it is an honor to receive the distinction of "Best ...
CBS National Morning New Features Pine Grove:

Pine Grove was featured on National News Oct. 28! Our new School Information Resource Officer (SIRO) Triston Campbell is doing a great job connecting with Pine Grove students! The CBS Morning News featured him and Pine Grove in their "What to Watch" segment. The story was on the TikTok dance battle between the Manlius Police Officer and student Madelynn Schepp along with other students. Check out the story
ESM Adjusts 20-21 Calendar (7-28-20):

ESM adjusted the District calendar at the Aug. 17 Board of Education meeting. The first day of school for K-12 is now September 10 and the Nov. Superintendent's Conference Day in November is Sept. 9. 2020-2021 Calendar (Updated 8/17/20) - holidays, breaks & staff days, 1-page PDF
Woodland Named a NYS Ed Dept. Recognition School:

We are proud to announce that Woodland Elementary is a 2019-20 Recognition School named by the New York State Education Department (NYSED). Woodland is among only 13% of all New York State public schools to receive this recognition. "Recognition schools are the highest performing and rapidly improving schools across the state. Recognition Schools across the state demonstrate the relentless commitment of teachers, administrators, staff and parents, without whom this growth would not have been possible," Interim NYSED Commissioner Shannon Tahoe said. The NY State Education Department identified 582 K-12 schools that are high achieving and high progress as Recognition Schools. Under the Every Student Succeeds Act (ESSA) plan, Recognition Schools are those with high academic ...
ESM Among Newsweek's Top STEM Schools in US:

Newsweek has named East Syracuse Minoa Central High School to its 2020 list of the best STEM high schools in America. "We're very proud to be honored nationally as a science, technology, engineering, and mathematics (STEM) school," said Grenardo Avellino, ESM Central High School Executive Principal. ESM is ranked number 3,642 of more than 31,000 public and private high schools in the U.S. on the Newsweek Top 5,000 STEM High School list. Newsweek partnered with STEM.org to rank America's Best STEM High Schools. The list includes schools that offer skilled teachers who keep up with developments in these fields and who create dynamic learning environments to engage their students. Among the schools on the list, ESM also ranks #2,257 among public ...
Viewing 1 - 13 of 13 stories