Viewing 1 - 7 of 7 stories
75 face shield frames 3D printed for COVID-19 healthcare workers:

HUGE shoutout to our ESM Technology Education Department. Mike Pounds, Dave Ashley, Scott Macomber and others volunteered their time to re-purpose ESM 3D printers to make plastic visor frames and clips used for face shields. When combined with clear polyethylene sheeting to cover the face, the shields will provide Central New York medical workers with PPE (personal protective equipment) to help them more safely fight the COVID-19 virus in patients. ESM staff delivered the 75 sets of frames & clips to Budmen Industries, which has a collection site on Route 298, right within the ESM boundaries! It took about 2 hours to print each face shield frame...totalling 150 hours for the project. The filament used was personally donated by teachers Mr. Ashley and Mr. Pounds. Their materials ...
ESM Breakfast & Lunch Program During State of Emergency:

ESM will offer a free Breakfast and Lunch Program during the State of Emergency. Starting Monday, March 30, 2020, ESM will deliver breakfast and lunch meals free of charge to all ESM families that sign up for delivery. As of that date, on-site meal pickup at East Syracuse Elementary School will be discontinued, and meals will only be delivered directly to homes. Meals are only for children age 18 and younger (including children who are not school-age). Delivery will continue throughout the State of Emergency, including the previously scheduled Spring recess. Meals will be delivered Mondays, Tuesdays and Thursdays. Two days' of meals will be delivered on Tuesdays and Thursdays. Those who sign up for delivery are asked to please leave a balloon, box, cooler, ...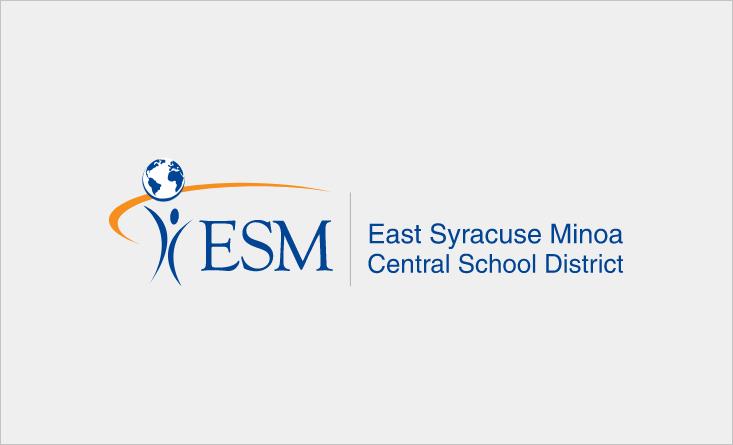 Updated Information on Coronavirus:

ESM has compiled resources and parent messages for parents/guardians regarding the "2019 Novel Coronavirus" and our online distance learning model we have implemented. Naturally, it is normal to be concerned when we hear about health-related events like this. Please be assured that the health and safety of students and staff is always our top priority. We are updating this web page as we have new information available in this rapidly-evolving situation. See below (scroll down) for messages that have been sent to parents/guardians from the Superintendent via SchoolMessenger. Free Meals: ESM is offering a free Breakfast and Lunch Program Mondays, Tuesdays and Thursdays during the state of emergency. Meals will be delivered to directly to homes. Details on how ...
ESM Among Newsweek's Top STEM Schools in US:

Newsweek has named East Syracuse Minoa Central High School to its 2020 list of the best STEM high schools in America. "We're very proud to be honored nationally as a science, technology, engineering, and mathematics (STEM) school," said Grenardo Avellino, ESM Central High School Executive Principal. ESM is ranked number 3,642 of more than 31,000 public and private high schools in the U.S. on the Newsweek Top 5,000 STEM High School list. Newsweek partnered with STEM.org to rank America's Best STEM High Schools. The list includes schools that offer skilled teachers who keep up with developments in these fields and who create dynamic learning environments to engage their students. Among the schools on the list, ESM also ranks #2,257 among public ...
U.S. Dept. of Education Spotlights Pine Grove in Video Series:

Technology can be a powerful tool to transform science, technology, engineering and math (STEM) learning. We are proud that Pine Grove Middle School is one of 10 schools nationwide chosen for an "Innovation Spotlight" video by the U.S. Department of Education's Office of Educational Technology. Each spotlight video highlights an exemplary STEM lesson from one of the 10 schools. The videos were created to help teachers, curriculum specialists and other school and district staff implement new, research-based approaches for effectively using technology in STEM learning. The Office of Educational Technology, in partnership with a non-profit organization called Digital Promise, reviewed research literature and examined practices at schools nationwide. They identified a ...
ESM Designated as a Best Community for Music Education for 6th Year:

For the 6 th year in a row, ESM is proud to be designated among the Best Communities for Music Education. Designations are given to districts and schools that demonstrate an exceptionally high commitment and consistent access to music education. ESM is among only 623 school districts nationwide that were recognized by the National Association of Music Merchants (NAMM) Foundation. The awards program recognizes the outstanding efforts of teachers, administrators, parents, students and community leaders who have made music education part of the curriculum. "Receiving the distinction as a Best Community for Music Education for the 6th year in a row is a reflection upon the consistency of our high standards for music education at ESM. We benefit from outstanding support ...
6 Alumni Chosen for ESM Wall of Distinction:

The East Syracuse Minoa Education Foundation (ESMEF) will honor six alumni as the 2020 inductees for the ESM Wall of Distinction at a special ceremony at 6 p.m. Feb. 29 prior to the Foundation's dinner dance at Traditions. The 2020 East Syracuse Minoa Wall of Distinction inductees are Kathleen Alaimo, Class of 1978; Lauren Barnello, Class of 1987; Nancy Edwards, Class of 1989; Kathleen Crossett Garver, Class of 1997; Lauren Kochian, Class of 1996; and Danny Liedka, Class of 1986. The ESM Education Foundation will honor the alum on Feb. 29. More information on dinner-dance. The Wall of Distinction was created to recognize distinguished alumni, staff and community members of the ESM School District who serve as role models for today's students and demonstrate the importance ...
Viewing 1 - 7 of 7 stories