Google Apps for Education
What is Google Apps for Education (GAFE)?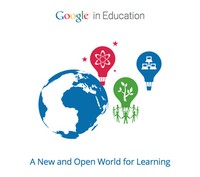 Google Apps for Education, commonly known as GAFE, is a free set of web based communication and collaboration tools. Included in this suite of tools are Docs for word processing, Sheets for spreadsheets, Slides for presentations, Forms for surveys, Google Classroom and more. You can use the apps on any device that can access the internet (desktop computer, laptop, iPad, smartphones, etc.).
Parents are encouraged to explore Google Apps with their children by logging in together.
It is OK to ask your children to share their Google login with you to look over their school work stored in Google Apps.
ESM is a "Google Apps for Education" school. That means all students in grades Pre-k to 12 have Google accounts through ESM. In addition, we provide Google Chromebooks for classroom use.
If you are interested in purchasing a Chromebook for home, you can purchase the same Chromebook we use. Click
here
to find out more.
Please note: technical support or warranty questions would go through CDW-G.
What is a Chromebook and Google Classroom?
Created by Pine Grove iStaff:
VIDEO/IMAGE
Acceptable Use
Students have been informed that Google Apps for Education at ESM are not private and that their accounts may be monitored for compliance with school policies. Students are expected to follow school rules when online just as they do in the classroom. Students must follow the guidelines as outlined in the Student Acceptable Use Policy (AUP), the District's Code of Conduct, and The Dignity for All Students Act.
Interested in Learning More?
If you would like to learn more about Google Apps for Education, visit the web sites listed below:
Google for Education
Google Apps for Education Common Questions
Google Apps for Education in 101 Seconds (video)